LONG-COVID RECOVERY WITH
HYPERBARIC OXYGEN THERAPY

Long-COVID recovery with hyperbaric oxygen therapy




Hyperbaric oxygen therapy improves neurocognitive functions and symptoms of post‑COVID condition: randomized controlled trial

A recent study from Israel shows that 40 hyperbaric oxygen sessions can significantly improve neurocognitive functions and symptoms in patients suffering from post-COVID-19 condition.

This randomized, sham control, double blind clinical trial was conducted by the Shai Efrati and Amir Haddany's research group at the Sagol Center for Hyperbaric Medicine and Research and School of Neuroscience, at the Tel-Aviv University in Tel‑Aviv, Israel. This is the latest addition to a leading research of the Israeli scientists supporting evidence that hyperbaric oxygenation or HBOT improves the brain plasticity in people with fibromyalgia , traumatic brain injury TBI and stroke as well as in healthy senior individuals.

Results of the study showed improvement in global cognitive function, attention and executive power, elevated energy levels, better sleep, reduced anxiety and depression, and overall systemic pain. These clinical improvements were associated with significant improvement in oxygenation leading to increased perfusion of the brain and microstructural changes confirmed with MRI of the brain. The authors conclude that "HBOT's beneficial effect may be attributed to increased brain perfusion and neuroplasticity in regions associated with cognitive and emotional roles."

Post Covid-19 or long Covid condition is defined as a myriad of symptoms including psychological, physical, emotional that are continuing or even new developing more than three months after getting Covid-19. Usual symptoms are trouble breathing and cough, heart problems with chest pain and palpitations, digestive problems with diarrhea and stomach pain, trouble thinking and concentrating ("brain fog"), headaches, anxiety, depression, reduced executive function, sleep problems and systemic widespread pain. The induced damage of infection with Covid-19 reaches cellular levels with hypoxia, inflammation and ischemia. This last study confirms the neuroplasticity effects of HBOT, including anti-inflammatory, mitochondrial function restoration, increased perfusion via angiogenesis and induction of proliferation and migration of stem cells.

The benefits of hyperbaric oxygenation in post Covid -19 infection and infections in general are in its role as powerful and non invasive systemic therapy that is also an excellent adjunctive therapy to other medical and natural treatments and therapies.

Call us for a free tour of our clinic

Read more on Long COVID recovery with hyperbaric oxygen therapy

and Hyperbaric oxygen therapy improves neurocognitive functions and symptoms of post-COVID


"highly promising intervention"
Reverse cellular age markers with hyperbaric oxygen therapy
COVID-19 recovery with hyperbaric oxygen therapy

Clinical trials has commenced in Israel under the guidance of Dr. Shai Efrati to investigate effective use of hyperbaric oxygen therapy in COVID-19 recovery.

The trials are focusing on addressing long-term sequela symptoms of COVID exposure: cognitive impairment, fatigue, sleep disorders, smell and taste disorders, pain and more.

The research group is hypothesizing COVID-19 can cause neuroinflammation and micro-infarcts leading to local hypoxia, specifically neurological hypoxia. Hyperbaric oxygen therapy will be used to reverse hypoxia, reduce neuroinflammation, and induce neuroplasticity.

Access to the clinical trial announcement: Hyperbaric Oxygen Therapy for Post-COVID-19 Syndrome (HBOTpCOVID)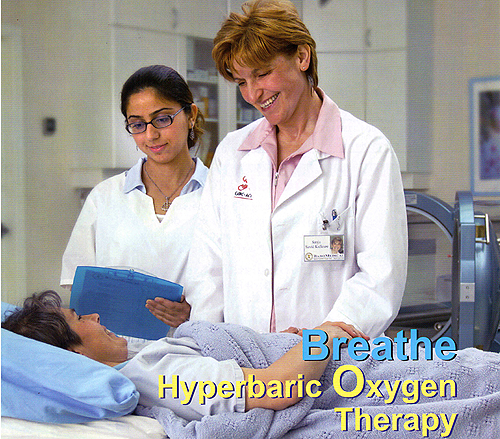 Hyperbaric Oxygen Therapy is an effective and natural way to recover from and prevent future health complications.
We can help you maintain and rejuvenate your health.
What is hyperbaric oxygen therapy?
Hyperbaric Oxygen therapy is treatment of the entire body with one hundred percent pure oxygen at greater than normal atmospheric pressure.
Why oxygen?
Oxygen is an absolute key component of life. It is required by all cells in the body for respiration and energy production, and is essential in keeping each one of us in optimal physical and mental shape. Inadequate oxygen levels in the body will cause cell death and organ malfunction, which in turn will manifest as a variety of injuries and illnesses.
What effect does oxygen therapy have?
Increased concentration of oxygen combined with increased pressure greatly increases the amount of oxygen dissolved in the blood and thereby the amount of oxygen delivered to the tissues. This allows oxygen to reach every remote cell in the body that needs repair, regardless of functioning circulation. Most remarkable healing is observed in wounds and brain, where swelling, inflammation and infection are impeding the repair.
Who should use oxygen therapy?
Today, hyperbaric oxygen therapy is used not only to address serious medical conditions, but also as a natural therapy to cope with the effects of aging, stress, and overexertion.
Adequate oxygen levels in your body will keep your health in balance.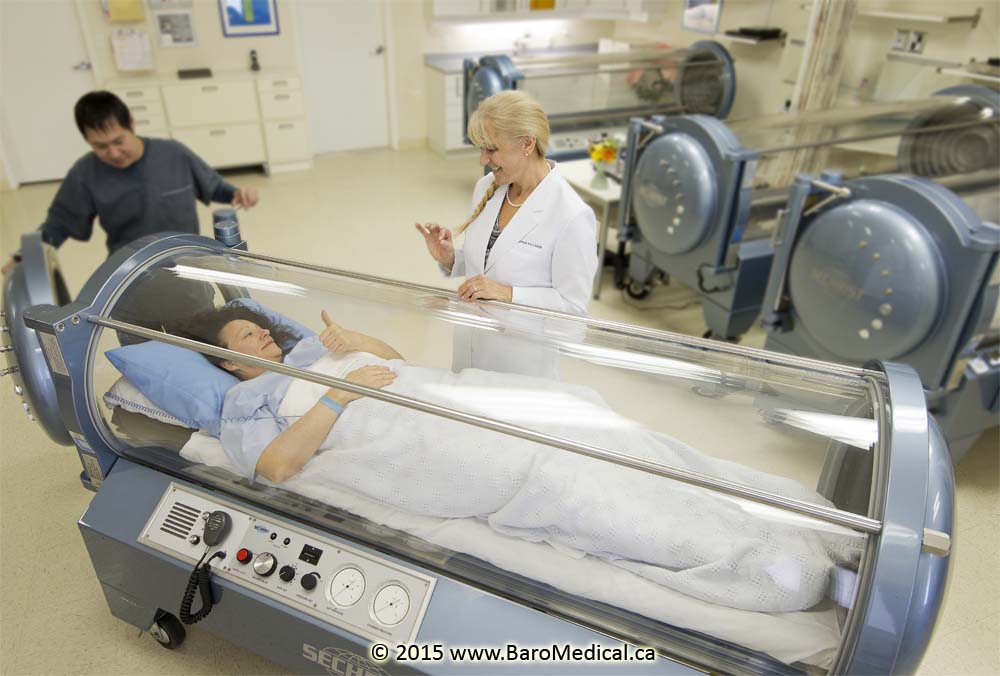 BaroMedical Centre of Excellence for Hyperbaric Oxygen Services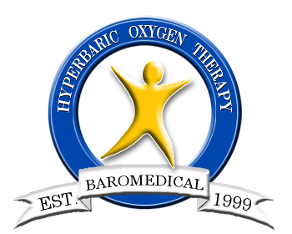 Currently booking for:


Call for cancellation spots: 604-777-7055
Closed:
Mon - 22 May 2023
Fri - 30 Jun 2023
Mon - 07 Aug 2023

INSURANCE CLAIMS WELCOMED
COVID-19 Precautions

Part of BaroMedical's COVID-19 response requires your participation for everyone's safety.

Appointment only. Entrance to BaroMedical is by appointment only. Always book ahead. If you're feeling sick, stay home. Don't expose others.
No mask, no entry! We will provide you with a mask if you don't have one. Masks are designed to protect others and must remain on properly for the entire duration of your visit, even inside the hyperbaric chamber.
Minimize contact with surfaces. We provide disinfecting wipes to clean any surface you may touch. We clean communal surfaces multiple times during the day and the hyperbaric chambers are sanitized between each client with special chamber disinfectant.