Preventive Oxygen Therapy
Preventive Oxygen Therapy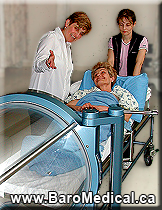 Our preventive therapy programs are aimed at balancing the body's increased need for oxygen during physical stress and illnesses.
Optimal oxygenation achieved thru regular hyperbaric oxygen sessions boosts micro-circulation, promoting vasculogenesis and neurogenesis. Additional oxygen also initiates release of stem cells from bone marrow which are capable of differentiating into cells to assist in healing and rebuilding tissue.
Stem cells are one of the most important factors in tissue repair and maintenance of optimal health.

Twenty hyperbaric oxygen sessions can increase stem cell concentration in our body by eight-fold (800%). Read more.
The movement of stem cells can also be triggered by pharmaceutical drugs however, these drugs are associated with a variety of side effects whereas hyperbaric oxygen treatments are safe and basically natures own oxygen in high concentrations.