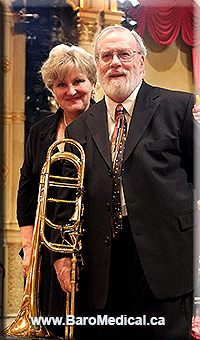 "Just a few months ago I had a stroke and was in a hospital. I couldn't talk and use my right arm and was in a wheelchair, not improving much. My doctor suggested oxygen therapy.

After 35 sessions I am back to work now playing my instrument professionally.
Could not be more grateful! And I am telling everyone."
Doug S - Coquitlam
Stroke of genius for VSO player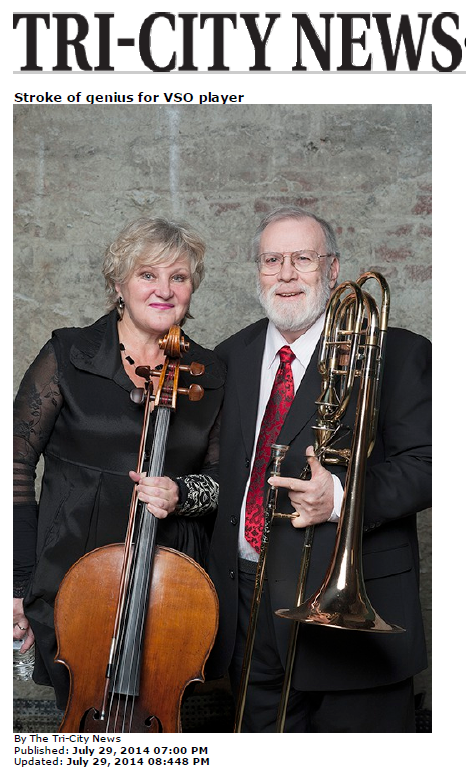 Douglas Sparkes was the bass trombonist with the Hamilton Philharmonic and the National Arts Centre Orchestra — and had been tapped to play with the Canadian Brass — when he got a call that changed his life.
The year was 1974 and the Vancouver Symphony Orchestra had invited him to come on board. How could he say no? he remembered. The gig was in Vancouver — much warmer than his native Ontario — and the VSO had a good reputation.
Now in his 41st season, Sparkes has solidified his reputation with the Grammy- and Juno-award winning large ensemble. Over the years, he has taught at UBC and other academies, founded the VSO School of Music and performed some of the toughest works ever written for musicians.
In December 2012, Sparkes said the VSO tackled two of the hardest compositions for an orchestra:
Schubert's Unfinished Symphony No. 8 in B-minor, D759, and Bruckner's Symphony No. 7 in E-major. That night, there was a guest conductor; however, VSO maestro Bramwell Tovey was in the audience, just to hear Sparkes play.
That's because it was the Coquitlam resident's first show since he suffered a stroke 16 months earlier.
It was a day he'll never forget. On Sept. 1, 2011, a Labour Day weekend, he and his wife, Natasha Boyko, a VSO cellist, were staying at a friend's cottage on a steep hill on Valdez Island, which is unreachable by BC Ferries.
It was 1:05 a.m. "I remember that [time] because I woke up and I couldn't move and I was trying to wake up my wife," he said.
When she realized what was happening, she ran down the hill and alerted their host. He contacted the Coast Guard but then his phone died. Several hours later, about half a dozen Coast Guard members reached the Gulf island by Hovercraft.
With their arms over their heads, the crew carried Sparkes down the hill on a stretcher, through the forest and placed him on the watercraft to transport him and his wife to Tsawwassen. Sparkes stayed overnight at the Richmond Hospital but were later told the machines weren't working so he had to be moved to Vancouver General Hospital.
Sparkes was lucky to get the transfer because on duty at VGH that day was Dr. Phillip Teal, one of the Canada's leading neurologists, a clinical professor at UBC's department of medicine and a Sauder Family-Heart and Stroke Foundation of BC/Yukon professor in clinical stroke research.
By the time surgery was ordered, 36 hours had passed. Boyko, who by then was resting at home and replaced at the hospital by their son, was asked to return for an experimental operation that required going up Sparkes' groin to remove a blood clot from his carotid artery.
No blood was flowing on the left side of his brain.
The family was told there was a 30% chance of success. "They tried three times," Boyko said. "If they didn't get it, no more Doug."
Fortunately, it was removed on the fourth attempt. While in intensive care at VGH, Dr. Teal visited Sparkes every day — sometimes by himself, sometimes with a team — to assess his condition and ask him simple questions: what day was it? what time? how many fingers was he holding up? ("I couldn't tell him the answer. I was paralyzed on my right side because the stroke was on the left in the head," Sparkes said) and what year was it? ("I said 1911").
Meanwhile, the couple was advised by their naturopathic physician and acupuncturist, Dr. Larry Chan, a cofounder of Integrative Healing Arts, to get an appointment immediately for a hyperbaric chamber to improve the oxygen to his brain.
Before the end of September, Sparkes was on the second floor of Port Moody's Eagle Ridge Hospital, ready to start rehabilitation. "I just remember I couldn't do anything: I couldn't hardly speak or use my right hand at all. My feet weren't working. I was bed bound." Speech, physical and occupational therapy was ordered. For the latter, the Eagle Ridge team asked him to do a series of tests — i.e., put pins in holes, turn over a checkers' bin, squeeze a revolver-shaped device —
but his scores were "zero, zero and zero," Sparkes said.
By then, Boyko had secured a spot at a hyperbaric medicine clinic in New Westminster. Sparkes underwent 1.5 hours a day for a month, with Boyko waiting outside the chamber.
His recovery was nothing short of miraculous: The first week of his appointments, Boyko pushed her
husband through the front door in a wheelchair. A week later, he was arriving in a walker and, the
following week, a cane. "By the fourth week, I was walking in and out on my own. It was bloody amazing," Sparkes said.
Best of all, his occupational therapy scores shot up dramatically, too: from 0 to 28.5 in a week to 72 in the fourth week. By January 2012, when he was released from Eagle Ridge Hospital — two months after he concluded his first round of hyperbaric appointments — his score was more than 85.
"I asked them what the score is for an average person who has not had a stroke. It's 10."
Sparkes later had another month in the hyperbaric chamber, a treatment that he fully credits to speeding up his recovery. By April of 2012, eight months after he sustained the stroke, he was driving a car on his own. "It's just as good as it was before. In fact, at first, it was better."
He also returned to entertaining, often cooking for members of the symphony. Still, Sparkes admits he's not his usual self. Having a stroke "is just bloody awful. Since it happened, I never got back to normal. It's debilitating but I've been fighting hard to get back."
It takes him longer to practise. "I used to look at the music the night before. Now, I need some weeks in advance" to get ready for the 170 or so concerts a year with the VSO.
To be a professional musician in a symphony orchestra, "You have to be there 100%," Boyko said.
For his return concert in December 2012 — a week after his 65th birthday — the VSO had another bass trombonist on standby but Sparkes was able to show he was back for good.
Afterward, Tovey confessed he was nervous before the show began but "he said as soon as you started playing, I just relaxed," Sparkes said.
Last Thursday, Sparkes and the VSO played their last show for the summer season, a pops concert at the Orpheum called On Broadway! with Steven Reineke conducting and Ashley Brown and Ryan Silverman on vocals.
They will re-start on Sept. 27 with Tovey as conductor and Inon Barnatan on piano for his VSO debut, performing Kelly Marie Murphy's A Thousand Natural Shocks, Brahm's Piano Concerto No. 1 in D-minor and Strauss' Also Sprach Zarathustra, a nod to the composer's 150th birthday.
The VSO's 96th season also includes guest appearances by the world-renowned Yo-Yo Ma and Lang Lang.
Said Sparkes, "Some weeks more than others, it's a challenge but I've managed to meet all the challenges so far."
jwarren@tricitynews.com
Find this article at: http://www.tricitynews.com/entertainment/268921211.html