COVID-19 and Hyperbaric Oxygen Therapy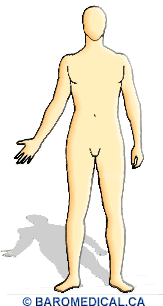 The SARS-CoV-2 virus which causes COVID-19 primarily attacks the respiratory system. Front line doctors report patients with rapidly declining oxygen saturation needing mechanical ventilation to reverse low oxygen saturation (medically known as hypoxia). Patients are not dying from lung failure but from oxygen failure, namely prolonged oxygen deprivation.
The current approach to treating COVID-19 is similar to that of viral pneumonia [1], with the severely ill requiring the assistance of mechanical ventilation. While countries are stocking up on ventilators, new evidence is arising from New York City's emergency doctors' experience suggesting they may not be effective enough [1,2]; it is not lung failure which causes death among COVID-19 patients, but systemic and prolonged oxygen deprivation (hypoxia).
Oxygen deprivation is similar to altitude sickness among mountaineers who are exposed to "thin air" (lower partial pressure of oxygen available to breathe) and to carbon monoxide poisoning (carbon monoxide molecules occupying the oxygen sites on the hemoglobin, preventing oxygenation). In all these cases, the oxygen deficit can be balanced by exposing the whole body to an increased concentration of oxygen, such as during hyperbaric oxygen therapy (HBOT).
Hyperbaric oxygen therapy and COVID-19
Like any virus, COVID-19 propagates more effectively in a hypoxic and immunocompromized body. Hyperbaric oxygen therapy creates super-oxygenation (hyperoxia). It is used in strengthening the immune system to give it a better chance at fighting off infections.
Hypoxic conditions can be reversed with hyperoxia, - super-oxygenation. This is done by breathing pure oxygen under pressure inside hyperbaric chambers.
HBOT is the administration of 100% medical oxygen under pressure and is specifically designed to address hypoxia. At one atmosphere (sea level atmospheric pressure), the healthy haemoglobin will be 100% saturated with oxygen during HBOT. Additional oxygen can be delivered at elevated pressures. At three atmospheres during HBOT, up to 20 times more oxygen is dissolved in the bodily fluids, including the blood plasma, lymphatic, and cerebrospinal fluids.
Providing safety to our staff and our clients is imperative to us at BaroMedical. Our safety and infection control protocols are following hyperbaric medicine, our government and WHO recommendations. We can offer and individualized and customized therapy in single occupancy, oxygen compressed, see thru chambers built to the highest standard minimizing cross contamination during hyperbaric oxygen therapy.
Although HBOT cannot eradicate the virus causing COVID-19, it will provide oxygen to the hypoxic tissue, as well as support the body's immune system. The therapy may delay or reduce severe complications, potentially avoiding the need for mechanical ventilation altogether.
RESEARCH NEWS:
An ongoing study in New York City is assessing how HBOT may reduce mortality and the need for ventilation among COVID-19 patients[3]. The pilot study is expected to conclude by July 2020.
It is expected that we will soon see additional studies showing hyperbaric oxygen therapy used in the early stage or as a preventive measure in high risk patients with COVID-19 infection.