COVID-19 and Hyperbaric Oxygen Therapy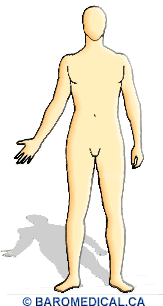 The SARS-CoV-2 virus which causes COVID-19 primarily attacks the respiratory system. Front line doctors report patients with rapidly declining oxygen saturation needing mechanical ventilation to reverse low oxygen saturation (medically known as hypoxia). Patients are not dying from lung failure but from oxygen failure, namely prolonged oxygen deprivation.
The current approach to treating COVID-19 is similar to that of viral pneumonia [1], with the severely ill requiring the assistance of mechanical ventilation. While countries are stocking up on ventilators, new evidence is arising from New York City's emergency doctors' experience suggesting they may not be effective enough [1,2]; it is not lung failure which causes death among COVID-19 patients, but systemic and prolonged oxygen deprivation (hypoxia).
Oxygen deprivation is similar to altitude sickness among mountaineers who are exposed to "thin air" (lower partial pressure of oxygen available to breathe) and to carbon monoxide poisoning (carbon monoxide molecules occupying the oxygen sites on the hemoglobin, preventing oxygenation). In all these cases, the oxygen deficit can be balanced by exposing the whole body to an increased concentration of oxygen, such as during hyperbaric oxygen therapy (HBOT).
Hyperbaric oxygen therapy and COVID-19
Like any virus, COVID-19 propagates more effectively in a hypoxic and immunocompromized body. Hyperbaric oxygen therapy creates super-oxygenation (hyperoxia). It is used in strengthening the immune system to give it a better chance at fighting off infections.
Hypoxic conditions can be reversed with hyperoxia, - super-oxygenation. This is done by breathing pure oxygen under pressure inside hyperbaric chambers.
HBOT is the administration of 100% medical oxygen under pressure and is specifically designed to address hypoxia. At one atmosphere (sea level atmospheric pressure), the healthy haemoglobin will be 100% saturated with oxygen during HBOT. Additional oxygen can be delivered at elevated pressures. At three atmospheres during HBOT, up to 20 times more oxygen is dissolved in the bodily fluids, including the blood plasma, lymphatic, and cerebrospinal fluids.
Providing safety to our staff and our clients is imperative to us at BaroMedical. Our safety and infection control protocols are following hyperbaric medicine, our government and WHO recommendations. We can offer and individualized and customized therapy in single occupancy, oxygen compressed, see thru chambers built to the highest standard minimizing cross contamination during hyperbaric oxygen therapy.
Although HBOT cannot eradicate the virus causing COVID-19, it will provide oxygen to the hypoxic tissue, as well as support the body's immune system. The therapy may delay or reduce severe complications, potentially avoiding the need for mechanical ventilation altogether.
RESEARCH NEWS:
Hyperbaric oxygen therapy improves neurocognitive functions and symptoms of post‑COVID condition: randomized controlled trial
A recent study from Israel shows that 40 hyperbaric oxygen sessions can significantly improve neurocognitive functions and symptoms in patients suffering from post-COVID-19 condition.
This randomized, sham control, double blind clinical trial was conducted by the Shai Efrati and Amir Haddany's research group at the Sagol Center for Hyperbaric Medicine and Research and School of Neuroscience, at the Tel-Aviv University in Tel‑Aviv, Israel. This is the latest addition to a leading research of the Israeli scientists supporting evidence that hyperbaric oxygenation or HBOT improves the brain plasticity in people with fibromyalgia , traumatic brain injury TBI and stroke as well as in healthy senior individuals.
Results of the study showed improvement in global cognitive function, attention and executive power, elevated energy levels, better sleep, reduced anxiety and depression, and overall systemic pain. These clinical improvements were associated with significant improvement in oxygenation leading to increased perfusion of the brain and microstructural changes confirmed with MRI of the brain. The authors conclude that "HBOT's beneficial effect may be attributed to increased brain perfusion and neuroplasticity in regions associated with cognitive and emotional roles."
Post Covid-19 or long Covid condition is defined as a myriad of symptoms including psychological, physical, emotional that are continuing or even new developing more than three months after getting Covid-19. Usual symptoms are trouble breathing and cough, heart problems with chest pain and palpitations, digestive problems with diarrhea and stomach pain, trouble thinking and concentrating ("brain fog"), headaches, anxiety, depression, reduced executive function, sleep problems and systemic widespread pain. The induced damage of infection with Covid-19 reaches cellular levels with hypoxia, inflammation and ischemia. This last study confirms the neuroplasticity effects of HBOT, including anti-inflammatory, mitochondrial function restoration, increased perfusion via angiogenesis and induction of proliferation and migration of stem cells.
The benefits of hyperbaric oxygenation in post Covid -19 infection and infections in general are in its role as powerful and non invasive systemic therapy that is also an excellent adjunctive therapy to other medical and natural treatments and therapies.
Read more on Long COVID recovery with hyperbaric oxygen therapy

and Hyperbaric oxygen therapy improves neurocognitive functions and symptoms of post-COVID