Stroke Recovery
Doug S. - Coquitlam
"Just a few months ago I had a stroke and was in a hospital. I couldn't talk and use my right arm and was in a wheelchair, not improving much. My doctor suggested oxygen therapy.
After 35 sessions I am back to work now playing my instrument professionally.
Could not be more grateful! And I am telling everyone."

Stroke Recovery
John C - Pitt Meadows
"Oxygen helped me tremendously in recovery from my stroke..."

Stroke Recovery
Willard O - North Vancouver
"... fell better than before my stroke."
Stroke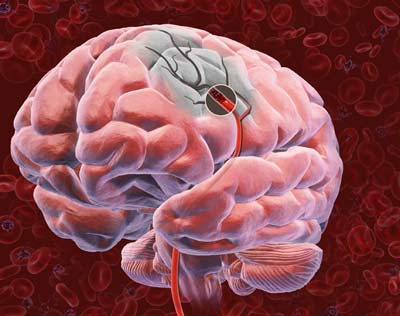 Stroke may occur due to reduction in the blood flow and oxygen transport to the brain after arterial occlusion (thrombus or embolus), arterial spasm, vessels rupture (aneurysm, hypertension), changes in blood viscosity, consequence of diabetes, or result of smoking, alcohol or obesity.
Hyperbaric oxygen therapy decreases blood viscosity and reduces clot formation as well as improves the deformability of the red blood cells making them more efficient in reaching distant capillaries.
Manifestations of stroke depending on the location of the neural damage could be: paralysis (hemiplegia or paraplegia), paresis, spasticity, flaccidity or muscle weakness, walking and balance impairment, intellectual and cognitive impairment (thinking understanding), speech impairment, memory disturbance ("vascular dementia"), sensitivity impairment, bladder and bowel dysfunction, sexual deficit.
Clinical application of hyperbaric oxygen (HBO) therapy in stroke has been widely used on experimental basis in acute stage as well as in the chronic stage – post stroke rehabilitation.
The reports of successful HBO therapy in chronic stroke have been mainly due to the possibility of oxygenation of the areas surrounding dead neuronal areas, which are anatomically intact but non-functional and have been dormant due to the initial lack of oxygen. These parts of brain called "ischemic penumbra" could possibly be reviewed with HBO, which would in turn initiate self-repair and establishment of lost connection due to the stroke. This would mean better mental and bodily functions.
Further reading:
Yan D, Shan J, Ze Y, Xiao-Yan Z, Xiao-Hua H. 2015. The effects of combined hyperbaric oxygen therapy on patients with post stroke depression. J Phys Ther Sci. 2015 May; 27 (5): 1295-7.
Ding Z, Tong WC, Ly XX, Peng HP. 2014. Hyperbaric oxygen therapy in acute ischemic stroke: a review. Interv Neurol. 2014 Aug;2(4):201-11
Boussi-Gross R, Golan H, Volkov O, Bechor Y, Hoofien D, Beeri MS, Ben-Jacob E, Efrati S. Improvement of memeory impairments in poststorke patients by hyperbaric oxygen therapy. Neuropsychology. 2015 Jul;29(4):610-21
Cao H, Ju K, Zhong L, Meng T. Efficacy of hyperbaric oxygen treatment for depression in the convalescent stage following cerebral hemorrhage. Exp Ther Med. 2013 Jun;5(6): 1609-1612
Efrati S, Fishlev G, Bechor Y, Volkov O, Bergan J, Kliakhandler K, Kamiager I, Gal N, Friedman M, Ben-Jacob E, Golan H. Hyperbaric oxygen induces late neuroplasticity in post stroke patient--randomized, prospective trial. PLoS One. 2013:8(1):e53716
Sanchez EC. Mechanisms of action of hyperbaric oxygenation in stroke: a review. Crit Care Nurs Q. 2013 Jul-Sep;36(3):290-8.
Chen CH, Chen SY, Wang V, Chen CC, Wang KC, Chen CH, Liu YC, Lu KC, Yip PK, Ma WY, Liu CC. Effects of repetitive hyperbaric oxygen treatment in patients with acute cerebral infraction: a pilot study. Scientific World Journal. 2012;2012:694703
Cummins FJ jr, Gentene LJ. Hyperbaric oxygen effect on MMP-9 after a vascular insult. J Cardiovas Transl Res. 2010 Dec;3(6):683-7
Matchett GA, Martin RD, Zhang JH. Hyperbaric oxygen therapy and cerebral ischemia. Neurol Res. 2009 Mar;31(2)
You ZJ, Li CY.The effects of hyperbaric oxygenation therapy on serum cytokines and depression in post-stroke depression.Chinese Journal of Physical Medicine and Rehabilitaioin 2009;31(10):667-670
Villa JF, Balcarce PE, Abiusi GR, Dominguez RO, Pisarello JB. Improvement in motor and cognitive impairment after hyperbaric oxygen therapy in a selected group of patients with cerebrovascular disease: a prospective single-blind controlled trial. Undersa HYperb Med. 2005 Sep-Oct;32(5):341-9.
Neubauer RR: Hyperbaric Oxygenation in acute stroke- 4 hour window, EUBS, 26th Annual meeting, Malta, Sep 14-18, pp:43-4650, 2000.
Neubauer RR: World Federation of Neurology proposed pilot study of hyperbaric treatment of acute ischemic thrombotic stroke , EUBS, 25th Annual meeting, Haifaand Eilat, Israel, Aug 28 -Sep 2, pp:48-51, 1999.
Jain K: Textbook of Hyperbaric Medicine, 2nd ed. Hogrefe and Huber Publishers, Inc., 1996, Chap. 17: Role of hyperbaric oxygenation in management of stroke, Chap. 19: Hyperbaric oxygen therapy in neurosurgery.
Veltkamp R, Toole JF: Hyperbaric oxygen-a neuroprotective adjuvant for hyperacute ischemic stroke J Neurol Sci, Sep, 1; 150(1):1-2, 1997.
Li W: Cerebral thrombosis treated by hyperbaric oxygenation, 9th International Congress on Hyperbaric Medicine, Sydney, Australia, March 1-4, pp 153-154, 1987.
Steenblock D. Hyperbaric Oxygen for treatment of stroke and traumatic brain injuries. 1998 July.
Steenblock D: Review of Hyperbaric Oxygen for Stroke Rehabilitation, Explore, Volume 7, Number 5, 1996/97.
Nighoghossian N, Trouillas P, Adeleine P, Salord F. Hyperbaric Oxygen in the treatment of acute ischemic stroke; a double blind pilot study. 1995 Stroke. 26:1369-72
Marroni A: Hyperbaric oxygen therapy at 1.5 or 2.0 ATA as an adjunct to the rehabilitation of stabilized stroke patients. A controlled study, 9th International Congress on Hyperbaric Medicine, Sydney, Australia: March 1-4, pp: 161-167, 1987.
Akimov GA et al: Assessment of the efficiency of hyperbaric oxygen therapy in early forms of cerebrovascular disorders, Neurosci Behav Phys, 15:13-16, 1985.
Sukoff MH, Ragatz RE: Hyperbaric oxygenation for the Treatment of Acute Cerebral Edema, Neurosurgery, 10:29-38, 1982
Neubauer RR, End E. Hyperbaric Oxygenation as an adjunct therapy in strokes due to thrombosis. 1980.Stroke Vol11(3). [PDF]